Attention: Trainers & Coaches,
"Finally… Provide Your Clients with The Complete Core Training Solution that Encompasses Performance, Fitness, and Rehabilitation"
The Spinal Health & Core Training seminar evolved out of the horrors we saw in the gym.
On a daily basis we would see people, trainers and coaches doing exercises that were classified as "core exercises" but watching their technique and program design, we could see it was more of a back injury program than a core training program.
Tony, Dean, Jeff and myself got chatting about the crazy stuff we see in the gym when it comes to core training during one of our Muscle imbalances Revealed – Upper Body Edition coaching calls. We started tossing around the idea of doing a seminar on doing core training right.
It took some time to book a weekend that we all could meet and share our perspectives on core training from each of our areas of expertise.
We finally met up in the Great White North (the metropolis of Edmonton, Alberta, Canada) and each presented a seminar on core training and spinal health.
Our goal was to was to come at things through our area of expertise: Performance, Training, Rehabilitation and Assessment.
We each looked at answering these questions:
How? – How do we train our clients for maximal core training results while still maintain spinal health and how each of us approach clients based on our specialization.
Why? – Why do we do what what we do when it comes to program design.
When? – When is the right time to do core training, progress exercises, regress exercises, add other modalities, add other training techniques or refer on.
Where? – Where can your clients go in order to get their core training and spinal health results. We look at the areas that we work in: clinic, fitness center, gym or strength centre.
What? – Then finally we get to the exercises. What exercises to do in order to reach you performance, fitness or rehabilitation goals.
Only a few trainers and coaches were able to attend the seminar, live. We did record it so you could get the information that you need to help your clients reach their core training goals while maintaining spinal health.
You can check out what each of us covers in the online seminar, right here:
The Complete Spinal Health & Core Training Seminar

Seminar #1
Core Performance for Results and Spinal Health
with Tony Gentilcore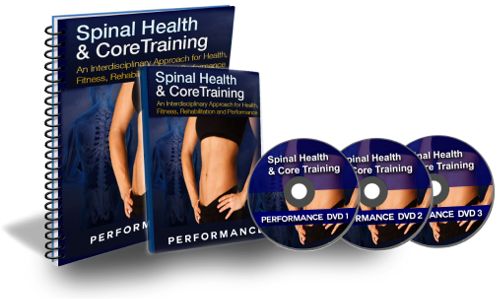 Tony Gentilcore will perform for you and explain how to improve core performance without doing exercises that suck. Tony's plan is to take you through an athletic core training screen and assessment that he uses with his athletes.Then it is into the exercises where Tony will show you how to turning basic exercises into core dominant exercises. Next is into the big lifts (deadlifts, squats, etc) and the role of the core in each and how to save the spine while lifting heavy.As Tony is taking you through the exercises he will make sure to add some cool variations to keep your spine healthy and make core training more fun and results-driven.

What Tony covers in his 3 videos (3 hours and 21 minute in length) seminar:
Introduction to Core Training and Performance (You can see a clip of this above.)
Back Pain and the Athlete – how big of an issue back pain is for athletes
Back Pain and the Athlete Table Assessment – What they do a Cressey Performance when it comes to the table assessment that looks at the back
Back Pain and the Athlete Movement Assessment – When they move their athletes away from the table assessment and get them moving, what are the things that they assess and look at
Hitting the Big Rocks that Block Athletic Performance –
Targeting the Glutes for Performance
Integrating Breathing for Performance
Core Program Design for Performance
Practical Breathing and Performance Session
Shoes, Barefoot Training and Performance

Squats, Deadlifts and the Core
Seminar #2
Exercises for Core and Spinal Fitness
with Dean Somerset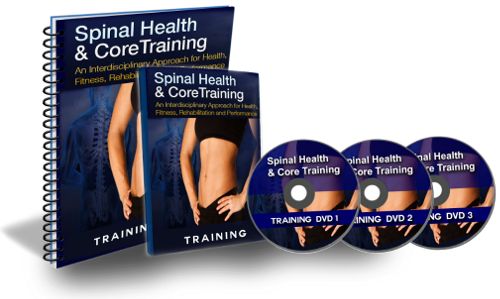 Dean Somerset promises to hammer your core and add 1000 core training exercises to your tool box of exercises.He will show you training variables and equipment to help you create a broad range of possibilities in core training for everyone from beginners to athletes to rehab-based clients.Don't wear jeans for this session as you are guarantee to rip them. Be ready to learn, watch, coach and do all the exercises.

What Dean covers in his 3 videos (3 hours and 38 minutes in length):
Introduction to Training People with Back Injuries
Functional Anatomy of a Back Injury
Link Between Back Pain and Latissimus Dorsi
How Your Core Can Be the Cause of Your Shoulder Injury
Research, Exercises and the Core
Fascia and Back Pain & Injuries
Why Do We Slump All the Time?
Dean's School of Core Training
Assessing Core Function
Becoming Strong, Stiff and Stable
Assessment & Exercises in Half Kneeling
Assessment & Exercises in a Plank Position
Assessment & Exercises in a Rolling Position
Unedited Practical Session – Some of the best stuff Dean had to offer was when he was helping trainers and coaches, individually. So we left the camera running and captured this and included it. It is full of great nuggets of information.
Case Study & Core Training Voodoo – Dean takes one of the trainers through his assessment and gets her to do a few exercises and got amazing immediate results. Training Voodoo at its best.
Seminar #3
Assessment & Pre-habiliation of the Core and Spine
with Dr. Jeff Cubos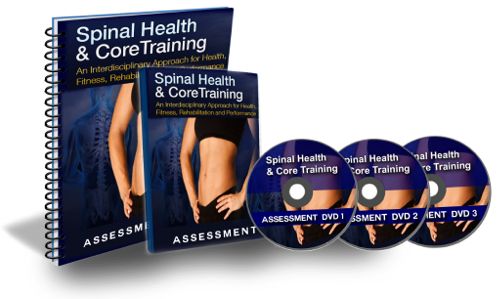 Jeff Cubos will share with you common back injuries and training mistakes that often lead to back injuries.He will show you what works best for preventing common back injuries, and prudent methods – including unconventional solutions – to get your clients back to injury-free status. Jeff will provide you with simple screens, demonstrate how to measure the success of your recovery program and concepts a clinician wants trainers & coaches to know and understand before referring them clients.

What Jeff covers in his 3 videos (2 hours and 47 minutes in length):
Medical Perspective on Core Training
The Strange History of Core Training
The Future Thinking of Core Training
Components of Optimal Core Function
Breathing to Help Core Function
Affect of Foam Rolling and Hip Mobilization on Core Function
Improving Core Function with Self Mobilizing
Fixing Breathing to Help the Core
Addressing Stiffness and Endurance in the Core
Miscellaneous Core Training Factors
Seminar #4
Exercise Rehabilitation of the Core and Spine
with Rick Kaselj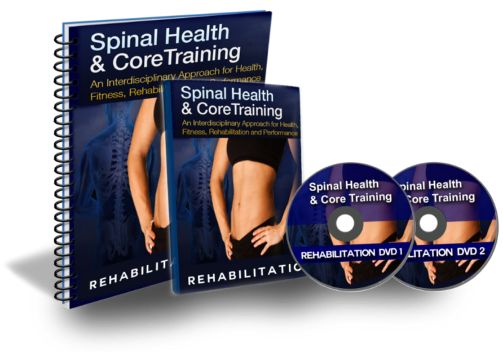 Rick Kaselj will focus on core training considerations for rehab, post rehab and novice clients.Rick will highlight what the research shows about core training and injuries in the upper body, spine and lower body. Rick will take you through a variety of regression and progression exercises to help your rehab, post rehab and novice clients in order to keep them healthy, happy, and moving forward.

What Rick covers in his 2 videos (2 hours and 11 minutes in length):
Introduction to Spinal and Core Rehabilitation
4 Hidden Factors that Affect Back Pain
What Core Exercises to Start Off with When Back Pain Hits
Being Barefoot and Injury Recovery
Progressing Core Exercises for the Rehab Client
Self Massage and Stretching for Back Pain
Thoracic Mobility and Back Pain
Hip Mobility and Back Pain
Transitional Movements and Core Training
Benefits of Spinal Health & Core Training Seminar:
Learn new training knowledge, skill and exercises from the comfort of your home
Instead of going to a seminar, have the seminar go with you and watch it wherever you are on your computer, tablet or phone
Avoid being "That Trainer." You know what I mean, "What is that trainer doing with his client?"
Who is Spinal Health & Core Training for?
Trainers and coaches that want learn the "how, when, where and what" when it comes to core training and spinal health. If you are a looking for a stack of crazy random exercises that hammer the core and injure the back, then Spinal Health & Core Training is not for you.
Who is Spinal Health & Core Training NOT for?
If you are looking for a stack of ab or core exercises that just blast the body with no purpose, plan or reason, this is not for you. If this is what you are looking for, please check out Jillian Michael's Rippped Abs or 6 Week Six-Pack DVDs. She does a great job of blasting the core and promoting back injuries.
About the Presenters

| | |
| --- | --- |
| | Tony Gentilcore, CSCS, CPT is a Certified Strength and Conditioning Specialist (CSCS) holding a degree in Health Education with a concentration in Health/Wellness Promotion from the State University of New York at Cortland. Recognized as one of the premier trainers in New England, Tony has established an outstanding reputation due to his no-nonsense approach to training, unique perspective on program design, and corrective exercise experience.Additionally, Tony is one of the co-owners of Cressey Performance, located just outside of Boston in Hudson, MA and is also a regular contributor to T-nation, Live Strong, as well as Men's Health Magazine. |
| | Jeff Cubos BPHE MSc DC FRCCSS(C) CSCS is originally from Toronto. Dr. Cubos holds a Bachelors degree in Physical Education and Health and a Masters of Science degree in Kinesiology. He is also a Fellow of the Royal College of Chiropractic Sports Sciences (Canada).Dr. Cubos has held teaching positions at York University, Seneca College, and the Canadian Memorial Chiropractic College, and has been a strong contributor to to the medical industry through multiple journal publications and presentations both nationally and internationally. Having a passion for working with elite athletes, Dr. Cubos serves as the team chiropractor for FC Edmonton of the NASL, team therapist for Canada at the IIHF In-line Hockey World Championships, team doctor for the Spruce Grove Saints of the AJHL, and team therapist for the University of Alberta Swim Team. |
| | Dean Somerset BSc. Kinesiology, CEP, CSCS, MEPD is the Rehabilitation and Medical Fitness Coordinator for World Health Club, a company with 19 clubs across Alberta, Canada.He oversees the trainer education and Post-Rehabilitation program implementation alongside over 100 medical and allied health professionals, and works to create a continuum of health and wellness for both patients and clients. His personal clientele ranges from joint replacement rehab, medical dysfunction management, weight loss, and even elite sport performance from a "function-first" training philosophy. |
| | Rick Kaselj MS, BSc, PK, CPT, CEP, CES has spent his professional career helping clients recover from injury, manage chronic conditions and prevent injury through exercise. Rick is a Kinesiologist, exercise physiologist and personal trainer who has combined his work experience and passion for research into a variety of courses and presentations for fitness professionals, Kinesiologists and health care professionals on an extensive list of exercise and injury topics. Over the past decade, Rick has given over 277 presentations to 5300 fitness professionals across north America while continuing to work in rehabilitation centers, physiotherapy clinics, recreation centres, fitness clubs and personal training studios. Rick recently completed his Masters of Science degree focusing on corrective exercise and therapeutic exercises for the rotator cuff. Rick shares his tips, tricks and exercises for injuries through his numerous books, manuals, DVDs and blog. To learn more about Rick you can visit him at ExercisesForInjuries.com or HealingThroughMovement.com . |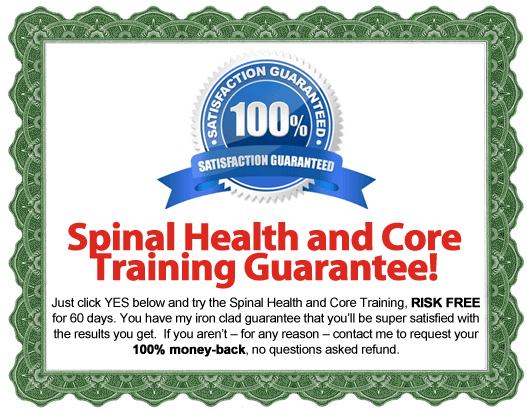 On behalf of Tony Gentilcore, Dr. Jeff Cubos, Dean Somerset, this is Rick Kaselj saying take care and bye bye.


Rick Kaselj, MS
One of the Creators of Spinal Health & Core Training
P.S. There is NO RISK at all for you when you try Spinal Health & Core Training. If you are not thrilled with how this program helps you and your clients improve their core training and back health, then I insist you contact me to get your money back. Your satisfaction is 100% guaranteed. Rick Kaselj has been trusted by the largest fitness & rehabilitation associations in Canada and the USA (NSCA, ACE, NASM, CanFitPro, BCRPA, CKA, NHPC).
P.P.S. – If you want to save a ton of money so you can go out and have fun, compared to spending money and time traveling to seminars, get Spinal Health & Core Training. Learning through video seminars allows you to save money, you will discover new material, get great new exercises and you will learn from 4 of the best in the business. Along with the savings you will have massive convenience of travel time (delayed flights, airport food, lost time, travel time to airport, registration lines, etc.).
P.P.P.S. – Have a question? We probably already answered it below!
FAQ
Q: How Does Spinal Health & Core Training Seminar Work?
After trying out Spinal Health & Core Training, you will be directed to the easy to follow details on how to access the video seminar. You can then view and download all four presentations. The instructions to view and download the videos are easy and quick to do. Along with the video presentations, you can download and print out detailed handout of each of the presentations. With your handout in hand and video presentation on your computer, laptop, iPad or iPod, you are ready to enjoy the presentations and learn a variety of assessments and exercises.
Q: Do I have to Watch the Video Presentations all at One Time?
No, you do not have to. You can watch the video video presentations when you want, at your own pace and re-visit any aspects of the video presentation when you like. Plus you will have lifetime access to all of the video presentations (I have been in the fitness industry since 1994, I am not going anywhere.).
Plus if you ever need any help with any thing, you can always email me at support(at)exercisesforinjuries.com or call me at (888) 291-2430.
Q: Can I See Some Clips from the Seminar?
Yes, just look up the page and you will see some clips from the seminar. Those are clips from the seminar and a taste of what you will get in the next page.
Q: Can I Burn the Videos onto a DVD?
Yes, you can! You can download the seminar videos to your computer and then burn the videos a blank DVD.
Q: How Long Will it Take to Get My DVDs?
Cool thing about Spinal Health & Core Training is you get everything right now. You get instant digital access to the seminar and do not need to wait for anything in th email.
Q: Do You Plan on Doing Another Spinal Health & Core Training Seminar?
No. The live presentation of the seminar was a one shot deal. You can see each of us presenting at different seminars or conferences but there is not plan to do another SHCT seminar.
Note: – Spinal Health & Core Training is a downloadable videos and handouts. No physical products will be shipped. After you order, you will get INSTANT ACCESS to download the videos and handouts. The handouts format is adobe acrobat PDF, which can be viewed on Mac or PC. The video format is MP4 which can be viewed on Mac or PC.