ATTENTION: Men and women who want to get the best core and spine health
Discover How To Create A Well-Structured Rehabilitation Program And Improve Your Core Stability
A vast amount of rubbish information spouted about spine and core stability, especially by those poorly skilled trainers you meet in gyms. The terms 'core strength', 'core function', and 'core stability' became chants conveyed with no real knowledge of what the words exactly mean. However, you will bump into a Guru who have a profound understanding of these concepts and change your life by

Rebuilding Your Core and Spine
Are you….
Suffering from back pain?
Struggling with a weak core?
Fighting a persistently "slumped' posture?
Having difficulty performing daily activities without pain?
You are not alone!
A lot people suffer from core weakness that affects their posture, strength, confidence and overall health. There are possible several causes of these problems. Most of us are not aware of which muscles truly need to activate to have a strong core.
But what if I tell you that….
Some exercises could further damage your core and spine?
Changing how you sit right now could significantly enhance your core strength?
Spending hours at the gym does not actually guarantee an improved core strength?
Unconvinced?
I was, too. Through comprehensive researches and through my immense experience in the field of health and fitness industry, I was able to heal my own core.
I used my proven and tested rehabilitation program to help thousands of my clients rebuild their core strength functionally in all the activities of their lives.
Now, what if I tell you that I can give you established strategies and tactics to create an incomparable training program to out-market and out-earn your competitors?
I will help you.
I will walk you through a unique approach that focuses on effective ways to improve your overall posture, alignment and stability to make you and your clients stronger in everything you do.
I will help you and your clients heal and rebuild your core!
Don't take my word for it… Here Are Real Feedback. Real Results. Here's The Proof!
Here's a brief overview of what you'll get:
Discover the active and passive approaches to recovery
Learn the components of a back pain program
Find out the four hidden factors that affect back pain
dentify what core exercises to begin with once back pain hits
Know the four-way belly breathing
Dig up the ins and outs of self-massage to benefit back pain and injury
Obtain a knowledge on how to address hip mobility and back pain
Let me show you everything that you will receive when you purchase the Core Performance for Results and Spinal Health Seminar Program.
What is included in the Exercise Rehabilitation of the Core and Spine Seminar Program?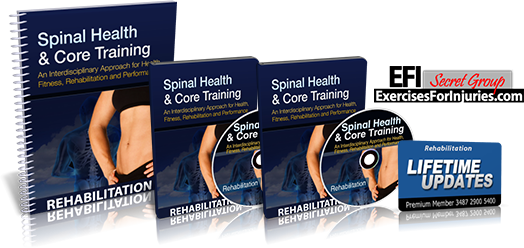 Component #1

–Introduction to Spinal and Core Rehabilitation

($39 value)

The first component of the seminar will give you an overview about core and spinal fitness. Understand the basics and get an inside look at core performance to get a better approach to core training.

In this 1 hour and 7 minute DVD, you will discover:

What are the basics of spinal and core rehabilitation
What is the relationship between rehabilitation, health, fitness and performance
What are the essential components of a back pain program

Component #2

–Basic Stability Exercises

($39 value)

The second component of the seminar will present you the ins and outs of self massage.

In this 1 hour and 3 minute DVD, you will discover:

How to do self massage and stretching for back pain
What are progressing core exercises for the rehab client
What is the importance of transitional movements and core training

Component #3

–Seminar Reference Guide

($29 value)

The third component of the seminar will provide you all the details and key points you need to concentrate. This is your fundamental guide for the Exercises for Core and Spinal Fitness Seminar Program.

Component #4

– Lifetime Updates

(Priceless)

This means you'll receive the updated versions of the Exercises for Core and Spinal Fitness Seminar Program absolutely free! You will ALWAYS be able to download the latest version of the seminar program at no cost.


Component #5

–Access To Our Secret Facebook Group

With your purchase of Exercises for Core and Spinal Fitness Seminar Program, you get an instant access to our secret Facebook community.

Rick Kaselj and friends of Exercises for Injuries community will be answering questions throughout this program via a secret Facebook group. Please join us on Facebook today. This will be the central place where you can ask questions, talk to others and get advice. Remember, peer support is a HUGE success factor when it comes to reaching your goals so do NOT miss this.
And today, you have the opportunity to get the entire seminar program
5-component, $107 package

for a single, one-time discounted payment of: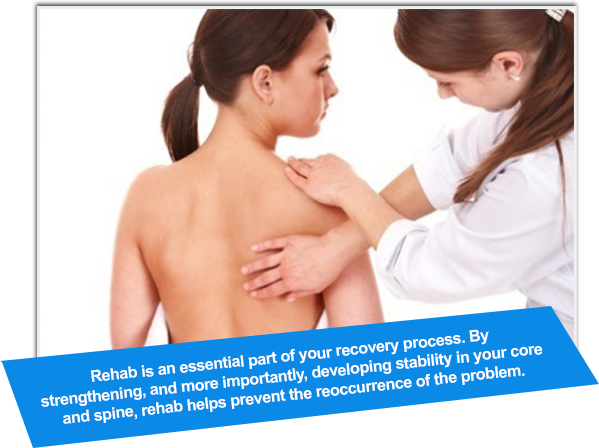 The Exercises for Core and Spinal Fitness Seminar Program is intended to assist you to stand out in the Game of Life!
With the presentation in a video format, you can go through the information at your own pace. You will get all of the tips and tricks you need to successfully improve the spinal and core health of your clients.
About Your Presenter…
| | |
| --- | --- |
| | Rick Kaselj MS, BSc, PK, CPT, CEP, CES has spent his professional career helping clients recover from injury, manage chronic conditions and prevent injury through exercise. Rick is a Kinesiologist, exercise physiologist and personal trainer who has combined his work experience and passion for research into a variety of courses and presentations for fitness professionals, Kinesiologists and health care professionals on an extensive list of exercise and injury topics. Over the past decade, Rick has given over 277 presentations to 5300 fitness professionals across north America while continuing to work in rehabilitation centers, physiotherapy clinics, recreation centres, fitness clubs and personal training studios. Rick recently completed his Masters of Science degree focusing on corrective exercise and therapeutic exercises for the rotator cuff. Rick shares his tips, tricks and exercises for injuries through his numerous books, manuals, DVDs and blog. To learn more about Rick you can visit him at ExercisesForInjuries.com or HealingThroughMovement.com. |
YES! Give Me Instant Access to the Exercise Rehabilitation of the Core and Spine Seminar Program
You get everything for a small, one-time investment of only $15 for the digital version and $20 for the printed version of the product. Best of all, you can access the entire program directly in high resolution video which you can watch online or download directly to your computer, tablet or smartphone. You don't have to wait for shipping as you get on the spot access to the seminar program while waiting for the DVDs to arrive. Just place your order and begin learning – right away!
You are fully protected by our 60 days money back guarantee. If you are not satisfied with the program, just contact us and we'll issue you a full refund – no questions asked.
This is my way of building a solid foundation of our relationship off on the right foot.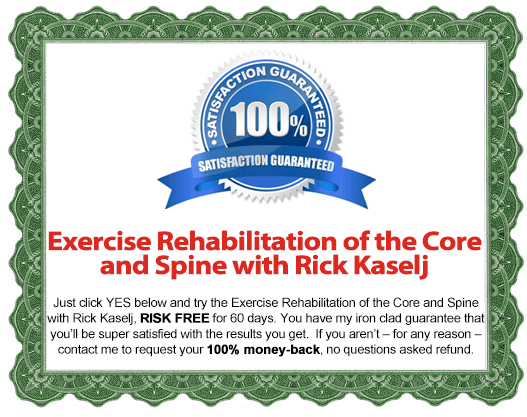 "Test drive" the Exercise Rehabilitation of the Core and Spine Seminar Program for the next 60 days with absolutely no risk and develop an only one of its kind core training program for your clients. You can feel totally safe because you are protected by our iron clad 100% money back guarantee.
I guarantee that you will not only be satisfied but will also be thrilled and amazed with the Exercise Rehabilitation of the Core and Spine Seminar Program. If not, you can simply email me and ask for a prompt and courteous, no hassles, no questions asked, 100% refund.
We are both honored and thankful to have the opportunity to work with you. We are looking forward to seeing you inside.
As always, TAKE ACTION.
Rick Kaselj, MS
The Creator of Exercise Rehabilitation of the Core and Spine Seminar Program
PS – The price of the "Exercise Rehabilitation of the Core and Spine Seminar Program″ is so affordable. The price will be doubling very soon so secure your order today before that happens and miss out this chance. There is NO RISK at all for you to try the program. If you are not pleased with how this program helps you and your clients develop their core training and back health, then I insist that you contact us to get your money back.
P.P.S. – If you want to save a ton of money and time traveling to seminars, get the Exercise Rehabilitation of the Core and Spine Seminar Program now. Learning through video seminars provide you massive convenience from keeping a good amount of your hard-earned money to saving travel time (delayed flights, airport food, lost time, travel time to airport, registration lines, etc.).
P.P.P.S. – Have a question? We probably already answered it below!
FAQ
Q: How does the Exercise Rehabilitation of the Core and Spine Seminar Program work?
Once you've purchased the Exercise Rehabilitation of the Core and Spine Seminar Program, you will receive an email from us with the details on how to access the video seminar. You can then view and download the presentations. The instructions to view and download the videos are easy and quick to do. Along with the video presentations, you can download and print out the detailed handouts. With your handout in hand and video presentation on your computer, laptop, tablet or smartphone, you are ready to enjoy the presentations and learn a variety of assessments and exercises.
Q: Do I have to watch the video presentations all at once?
No, you do not have to. You can watch the video presentations when you want, at your own pace and re-visit any aspects of the video presentation when you like. Plus, you will have lifetime access to all of the video presentations (We have been in the fitness industry since 1994, we are not going anywhere.).
If you need any form of assistance, you can always email us at support(at)exercisesforinjuries.com or call us at (888) 291-2430.
Q: Can I burn the videos onto a DVD?
Yes, you can! You can download the seminar videos to your computer and then burn the videos a blank DVD.
Q: How long will it take to get my DVDs?
If you are in USA, it will take 3 to 5 business days and if you are in Canada it will take 10 to 15 business days. All other International orders (including the UK, Mexico and Australia) will take 10 to 21 days. It will take about 5 days to process and prepare your order and then it will be shipped out.
When you purchased the program, you get an on the spot access to the webinars which you can view on the internet or download to your computer while you are waiting for your DVDs to arrive.
Q: My country is not a place that you ship to. Can I still get a DVD sent to me?
Yes, contact us via support(at)exercisesforinjuries.com and we can make arrangements for you to order the DVDs.
Q: If the DVDs do not meet my expectations, how do I return them?
Contact us at support(at)ExercisesForInjuries.com so we can start processing your refund. Then, put the DVDs into an envelope and ship them to:
ExercisesForInjuries.com
Suite #2289 – 3151 Lakeshore Rd
Kelowna, BC V1W 3S9
Canada
YES! Give Me Instant Access to the Exercise Rehabilitation of the Core and Spine Seminar Program
Note: – Exercise Rehabilitation of the Core and Spine Seminar is a program with downloadable videos and handouts. If you purchased the printed version, the physical DVDs will be shipped to you. After you order, you will get INSTANT ACCESS to download the video and handouts. The format of the handouts is adobe acrobat PDF while the format of the videos is MP4 which can be viewed on Mac or PC.
ClickBank is the retailer of products on this site. CLICKBANK® is a registered trademark of Click Sales, Inc., a Delaware corporation located at 917 S. Lusk Street, Suite 200, Boise Idaho, 83706, USA and used by permission. ClickBank's role as retailer does not constitute an endorsement, approval or review of these products or any claim, statement or opinion used in promotion of these products.