Discover the Secret Assessment and Exercises to Help Bust Through Fitness Plateaus, Get Faster Results, Rapidly Recover from Injuries and Improve Performance Without Ever Leaving the Comfort of Your Own Home!
My name is Rick Kaselj. I'm a world-renowned exercise and injuries expert and international fitness presenter. I have written industry leading exercise injury manuals, numerous articles that have appeared in fitness association magazines and taught over 315 presentations to 6065 fitness professionals across Canada and Unites States. (You can learn more about me and see a photo of me below.)
… But before I tell you all about me and how I can help you get your clients better with faster results, and keep them injury free for life, check out what all of these fitness professionals have to say about Muscle Imbalance Revealed: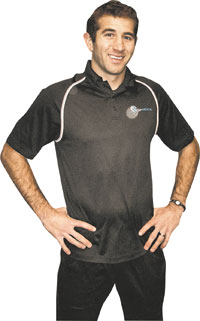 "MIR Has Helped Our Trainers Take Our Facility to the Next Level"
"I run a medical fitness facility that has over 13 trainers. We also have 2 full time physical therapists who understand the importance of accessing and treating muscle imbalances. Unfortunately we only have limited hours for the physical
therapists to perform in house training. MIR has been a blessing to our facility as we are able to educate all our trainers to be the best they can be. Being a medically supervised program we need the tools necessary to serve the injured and high-risk population and MIR is a huge part of our staff training. MIR has helped our trainers take our facility to the next level. Most importantly it has filled the gap in knowledge most trainers are missing so they can better serve our facilities demographics. Thanks you so much MIR."
J.R. Burgess MS, CPT, NA
Rejuv Medical CFO/VP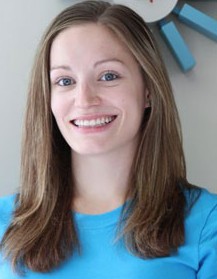 "Exactly What I Have Been Searching For.."
"I would definitely recommend this course to all my colleagues as I found it incredibly useful and interesting and will likely refer back to the content in the future. Muscle Imbalances Revealed was exactly what I have been searching around for and I am excited to check out the membership area of the different presenters to see what other information, courses and/or books they offer on their topics. Thank you, Rick"
Amanda McMurray
Practicing Kinesiologist
Vancouver, BC, Canada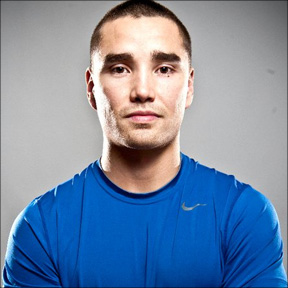 "Muscle Imbalances Revealed Should Be in Every Personal Trainer's & Fitness Professionals DVD Library."
"Muscle Imbalances Revealed should be in every personal trainer's and fitness professional's DVD library. Not only is this a great compilation of information, it is easily accessible in the webinar format.It's like having a private seminar in the luxury of your own home! They download fast and you can take notes on the power point handouts.The content is delivered in an easy-to-understand manner and can be immediately applied to your clients. I have seen a lot of content over my years as a strength and conditioning coach and this product is among the best.I recommend this product to all Kinesiologists, personal trainers and coaches wanting to reduce injury risk and improve self/client/athlete performance."
Jon-Erik Kawamoto, CSCS, CEP
Strength and Conditioning Coach
JKConditioning.com
Burnaby, BC, Canada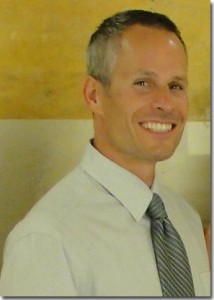 "Relevant, Useful Content."
"Hi Rick: I just wanted to thank you and the other contributors of Muscle Imbalances Revealed for coming up with such a great product.This product works well with everyone we see from the rehab through the performance end of the training continuum. And it does so with relevant, useful content.The key advantage I realized with this product was that the information could be readily applied and advantages realized almost immediately.My athletes and I thank you!"
Chris Collins M.Sc. CSCS
Strength and Conditioning Specialist
Okanagan Peak Performance
Kelowna, BC, Canada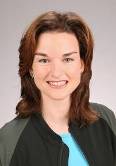 "Similar to Attending a Live Grade A Conference"
"This course is similar to attending a live grade A fitness conference, but from the comfort of your own home. It presents a powerful compilation of 4 expert exercise professionals sharing their years of experience and knowledge. The crossover and focus of the content helps you understand the concepts well to the point where you feel confident applying them. This course is fabulous value for the cross section of information given providing lots of useful assessments and exercises to use with your clients. Thank you for offering a comprehensive course with an expert team approach."
Jody Kennett
Personal trainer & post rehabilitation exercise specialist
Leap Fit Training Professionals
North Vancouver, BC, Canada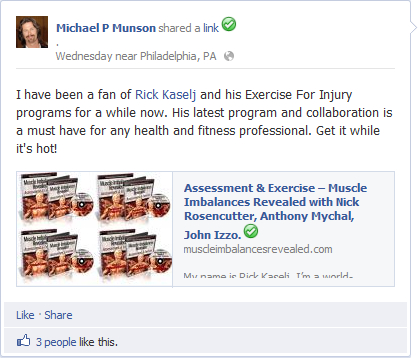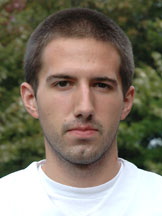 "Muscle Imbalances Revealed is the Gold Standard.."
"The difference in knowledge gained from Muscle Imbalances Revealed is night and day when helping to improve clients' lives. Muscle Imbalances Revealed is the GOLD STANDARD for assessing athletes or the average client in order to make them stronger, faster, or get rid of a nagging injury. It has helped me and will help trainers and coaches everywhere move to another level."
Alex Rosencutter, NSCA-CPT
Strength Coach/Personal Trainer
Milwaukee, Wisconsin
"It's a Wonderful Resource"
I've been studying Muscle Imbalances Revealed and it's a wonderful resource.
I've learned a lot that I can apply with clients. I have studied assessments previously and use them but these are much more thorough and have helped me understand numerous issues. The information is presented systematically and very clearly.
I would recommend these DVDs to anyone wishing to understand muscle imbalances and their ramifications.
Larry Sacks
Personal Trainer / Feldenkrais Instructor
Tel Aviv, Isreal
Problem: "
If You Are Not Assessing, You Are Guessing" is a Useless Statement
If you have heard or live by the mantra, "If you are not assessing, you are guessing", it sounds smart but it is useless.
I get a steady stream of clients that have seen trainers, coaches and therapist that follow this mantra. They are great at identifying the problem but after that, things fall apart. Don't be like the majority of trainers, coaches and therapist.
Solution:
Exercises and Program Design that Pin-Point and Fix the Program
The assessment part is easy but using exercises to target the problem and help fix it is the key.
That is what Assessment & Exercise Program does. It gives you the assessments needed to identify muscle imbalances and movement dysfunction and then gives you the exercises to fix the problem.
Problem:

Seminars,
Courses and Conferences are Expensive!
Fitness education is expensive.
Just a few weeks ago, I attended a weekend fitness course and it costs me $2,000.
Ouch!
The cost of the course was only one of my expenses.
I also had to pay for:
– flights – taxi to and from the hotel – hotel – meals (breakfast, snacks, lunch, dinner and drinks) – I had to take time away from work and clients
When all is said and done, it cost me about $3,200.
I have to say the material was good and I learned a few things but I could have learned all of it through a video presentation.
Solution:
Amazing Value!

The amazing value is a huge reason why I love video presentations.
I have been teaching live fitness education courses since 1999.
The biggest thing I love about video presentations, outside of convenience, is the cost of people attending a video presentation.
With video presentations, you get all the benefits of attending a live course or conference at a fraction of the cost.
You get excellent information with a focus on assessment and exercises, not to mention you have the presentation so you can watch it over and over again.
My favorite time and place to watch video presentation is when I am stuck on a plane and view them on my iPhone.
Problem:
Who Has Time to Read Research Articles, Huge Textbooks or Go to Seminars?
I know you are busy.
Fitness professionals work long hours and it is difficult to find the time or energy to sit down and read a textbook on exercise physiology or to look up the latest research articles.
With our weekdays full of training clients or leading boot camp groups, it is difficult to find the desire to head to a conference or a course on the weekend.
Going to all those courses and conferences on the weekend leads to less time with family, friends and fun.
Who does not want more time with family, friends and having fun?
Solution:
Sitting Back and Learning

A few years back, I discovered a way of sitting at my computer and having someone else teach me tips and tricks to help my clients.
The way this was done, was through video presentations.
I know you may be asking, "What is a video presentation"?
A video presentation is an online video presentation that is focused on great practical information wherein you just sit back and watch the material on your PC, Mac, iPod or iPad.
I watch them on my 7 year old PC.
You are able to view the video presentation off the internet or download it to your computer for viewing at another time.
Each video presentation contains detailed assessments that help pin point problems and specific exercises that help fix the problem.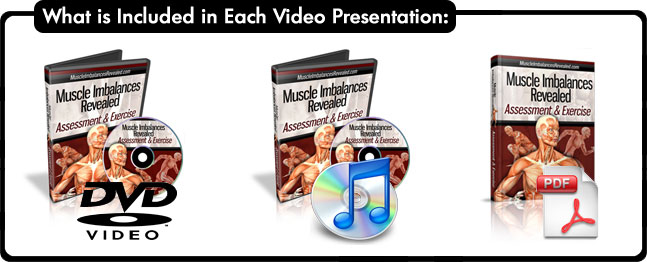 With each of the video presentations, you get a video recording, audio recording and handout that will work on your PC, Mac, iPod or iPad.
I know you might be thinking, "I have watched video presentations before and could not download or burn it to a DVD".
With most fitness education video presentations, you have to sit in front of your computer and watch the full presentation.
Oftentimes, you lose the internet connection to your computer and you have to start all over again.
This is very frustrating, inconvenient and a waste of time.
Plus, most video presentations you can't download, you can't burn to a DVD, and you can't skip to the best part.
This is NOT the case with Assessment & Exercise Program. You can download, burn and skip to any part in the 4 assessment & exercise components.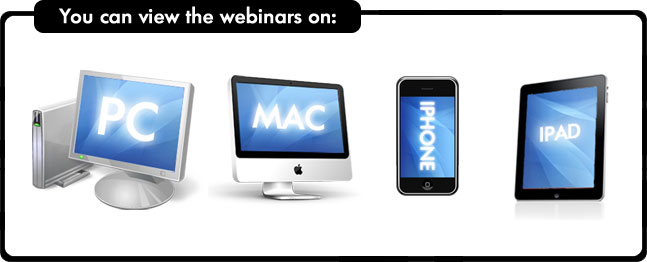 Problem:
No One Person or Profession Can Do it All
I would like to think with all the schooling I have done, the conferences I have attended, the textbooks I have read and the research papers I have gone through, that I would know it all when it comes to assessment and exercise. It is not possible for one person to know everything when it comes to muscle imbalances or even one profession to know all there is when it comes to muscle imbalances.
Solution:
4 Experts in Assessment & Exercise
Instead of just showing you the assessment and exercises that I do for injury recovering clients, I sought out 3 other experts in the area – Nick Rosencutter, Anthony Mychal and John Izzo.
As I was searching out experts in the area, I discovered no one person or profession has all the answers when it comes to muscle imbalances.
In Assessment & Exercise program you get the perspective of a strength coach, corrective exercise specialist, massage therapist, kinesiologist, exercise physiologist and personal trainer.

In Assessment & Exercise all four of us share our knowledge, experience, exercises and tips & trick when it comes to assessment & exercise. This is all done with instant access downloadable video presentations.
Problem:

Misplacing Your Files
Isn't it frustrating when you can't find where you saved your videos on your computer?
You end up spending hours looking for them. You have no way of getting another copy.
Solution: You Have Lifetime Access to Assessment & Exercise
You don't have to worry about that with Assessment & Exercise program. All the video presentations, handouts and updates are there when you need them today, or even in a few years' time.
There are no time limits or additional fees to your membership.
You have lifetime access to the membership area of Assessment & Exercise program where everything is there for you to access.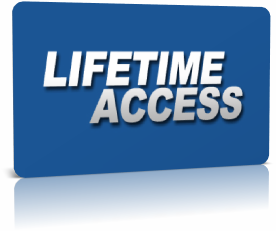 Plus, we are always updating each of the Muscle Imbalances Revealed editions and you get all those updates for free.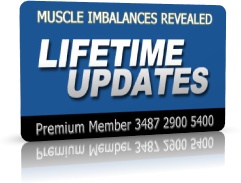 Problem: Has this Program Helped Anyone?
With every new health and fitness education product that comes out, you wonder if it is going to work.
Solution: Muscle Imbalances Revealed has Helped Well Over 2464 Fitness & Health Professionals from Around the World
MIR has helped health and fitness professionals from around the world.
Here is where some of the health and fitness professionals are from that have been helped by MIR: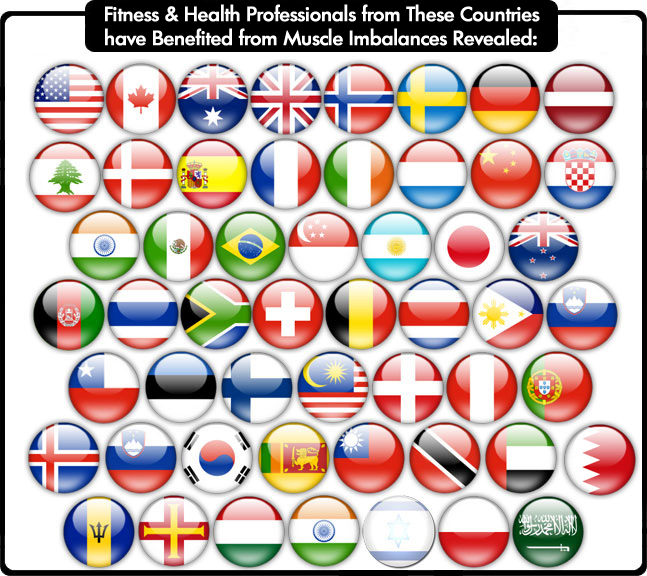 If you want to see what other health and fitness professionals like you say about Assessment & Exercise program, scroll down and read the testimonials.
Summarizing the Key Benefits of
Muscle Imbalances Revealed:
Here are a few more benefits of Muscle Imbalances Revealed:
You can watch the video presentations at your own pace and go back to key points at your convenience
You can watch the video presentations on your own computer, laptop, iPad or iPod
You don't have to take time off work and spend money to attend a seminar, course or conference
You can watch the video presentation when it is convenient and best for you
You can download the video presentations to your iPod or iPad and watch it while waiting for an appointment
You can learn new assessment and exercises from the convenience of your home
You can view the video presentations on a PC or Mac
You can download an MP3 of the video presentations and listen to it in your car, on your iPod or during your workout
An affordable way of learning new detailed and researched backed information for yourself, your clinic or fitness team
No time is wasted driving or flying to seminar, courses or conferences
No expensive and overpriced course or conference fees
Lifetime access to all of the fitness education videos
Unlimited access to all of the video presentations
This is not like most conferences where you get a hodge podge of information. Assessment & Exercise program is focused, practical information that will help you with yourself or clients, right away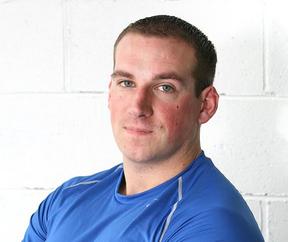 "Highly Recommend You View!"
"Muscle Imbalances Revealed was an excellent resource that I'd highly recommend you view. And I think it's particularly valuable because you can conveniently watch it from the comfort of your own home or office without having to spend hundreds of dollars on travel and accommodations while taking time off from work."
Eric Cressey
Premier Strength Coach for Baseball Players
EricCressey.com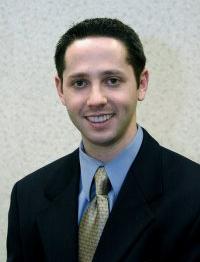 "Well Designed Website That Overviews a Great Topic"
"Muscle Imbalances Revealed is a well designed website that overviews a great topic: muscle imbalances of the shoulder, lumbopelvic region, and lower extremities. The program discusses muscle imbalances, dysfunctions that you'll see, and treatment strategies from some top notch names in our industry: Mike Robertson, Bill Hartman, Eric Beard, Rick Kaselj, Kevin Yates, and Dean Somerset."
Mike Reinold
Physical therapist, athletic trainer, and certified strength and conditioning specialist
Assistant director of medical services of the Boston Red Sox Baseball Club
MikeReinold.com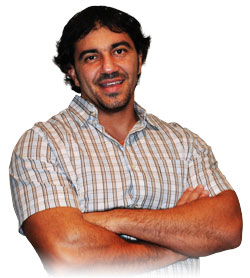 "The Entire Industry Looks to Rick Kaselj"
"The entire industry looks at Rick Kaselj as the "muscle imbalance solution" expert and that's because he speaks on the subject and has written and published more info on it than anyone else."
Bedros Keuilian
Personal Trainer Success Coach
PTpower.com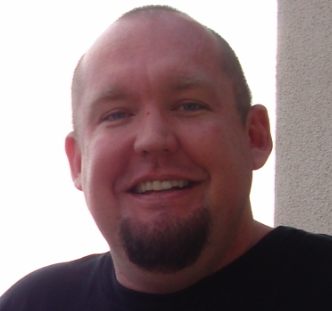 "When it Comes to Treating Injuries Through Exercise, Rick is 'the Man'"
"When it comes to treating injuries through exercise, Rick Kaselj is 'The Man' … and he can show you how to add some nice extra income to your training business by suckin' in lots of new clients from this practically untapped niche."
Chris McCombs
Personal Trainer Success Coach
KickbackLife.com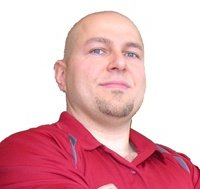 "I Do Endorse .. Muscle Imbalances Revealed"
"Anyone that knows me, knows that I have been a web presence for quite a while, and knows I don't endorse many people. I certainly don't endorse products with outrageous fat burning claims, or millionaire attainment secrets, or gaining muscle in 5 days…but I do endorse self-improvement and continuing education. Making fitness professionals better and more respected in this field starts with good-hearted role models and tools that provoke the learning process. Muscle Imbalances Revealed does exactly this."
John Izzo
Leading Fitness Educator
TrainerAdvice.com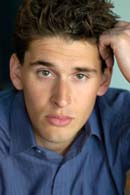 "Unique Insight"
"Rick provides, and his unique insight is in my opinion perfect for 1) physicians and personal trainers who are trying to address mysterious aches and pains in their patients and clients and 2) people who are at a fitness plateau because they keep getting injured."
Ben Greenfield
Triathlon Coach
BenGreenfieldFitness.com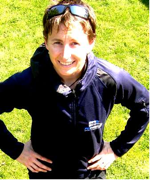 "Comprehensive Way of Reaching Trainers."
"I found the ideas presented in Muscle Imbalances Revealed a comprehensive way to reach trainers who are just starting out, right up to those of us who have been at it for years. I see this as a great tool for trainers and strength coaches. If this is an area where you are lacking, I suggest you check this out."
Maria Mountain, MSc
Owner/Strength & Conditioning Coach
HockeyTrainingPro.com
London, Ontario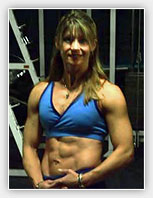 "So Much More Than The Name Implies"
"Wow, I have to say that Muscle Imbalances Revealed is so much more that the name implies.
It's so jam packed with info that I'll use it as my 'go to' resource. I run fitness boot camps and my clients always have nagging injuries that I have to work around. I'll use this resource to provide practical advice and exercises that will prevent injury as well as aid in their recovery of previous injuries.
I feel more confident in providing fitness advice to prevent and rehab injury with this resource in my arsenal.
Thanks Rick for the clear and concise way of presenting all this information."
Shawna Kaminski
Female Fat Loss Over 40 Expert
Owner/Operator of Calgary NW Adventure Boot Camp
FemaleFatLossOverForty.com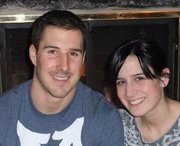 "Important Tool in My Repertoire"
"Muscle Imbalances Revealed by Rick Kaselj is complete and is an important tool in my repertoire of works in practice. It is easy to use and understand. The various presentations allow us to touch a wide variety of muscle imbalances that may apply to both a general sports population. Its content will be definitely very helpful to me to optimize the training of my clients."
Xavier Roy

Montreal, Quebec
Performance Specialist
Xrperformance.blogspot.com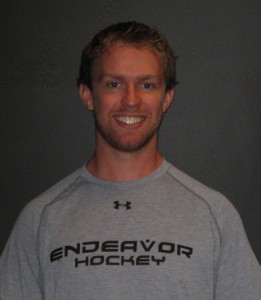 "Addressing Muscle Imbalances is Paramount Importance when Training Athletes."
"Addressing muscular imbalances is of paramount importance when training athletes. Muscle Imbalances Revealed provides the background, assessments, training strategies, and specific exercises to restore balance across the lower extremities, lumbopelvic area, and shoulders, and therefore equips you with the knowledge you need to help prevent the most common sports-related injuries. Even better, you can benefit from all the content from the comfort of your home."
Kevin Neeld
Hockey Strength and Conditioning Coach
KevinNeeld.com
The Complete Assessment & Exercise System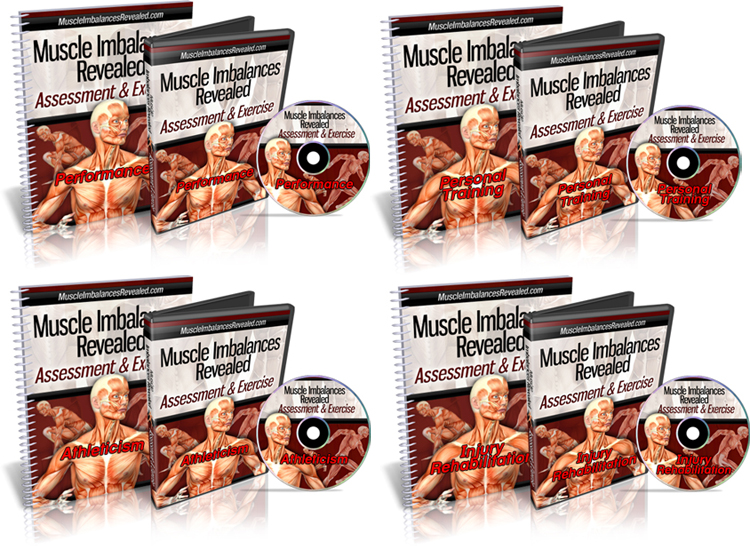 Component #1 –
Assessment & Exercise for Performance with Nick Rosencutter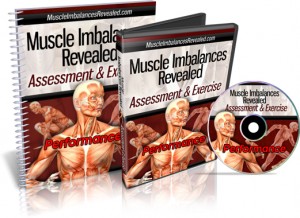 In this information packed presentation, Nick Rosencutter will show you how to identify muscle imbalances and movement dysfunction in your athletes and high level clients. He will show you the targeted assessments he uses and then the specific exercises he uses to fix the muscle imbalances and movement dysfunction in his athletes and high level clients. (Value $47)
Component #2 –
Assessment & Exercise for Athleticism with Anthony Mychal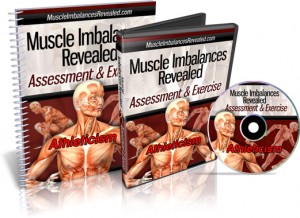 Anthony focuses on some strange and unique concepts as it relates to athleticism. Not everyone is an athlete but many people want to reach their own high level of athleticism. Anthony shows you what he did to get his athleticism back after injuring his knee during high level martial arts movements. In his presentation he challenges your linking when it comes to functional exercises and shows you a concept that is more important than ankle mobility in your feet. (Value $47)
Component #3 –
Assessment & Exercise for Personal Training with John Izzo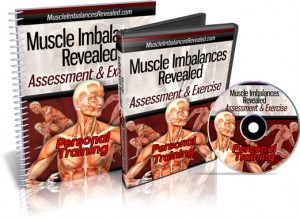 John discusses the role of assessment and personal training. He highlights what needs to be looked at beyond joint position and what is weak and tight. He shows you how to line up your assessments to match your general population clients goals and how to help, not hurt your clients with your assessments. John shows you the two areas he focuses in on with his assessments and the exercises he uses to fix them in order to help his personal training clients reach their health, fitness, fat loss and life goals. (Value $47)
Component #4 –
Assessment & Exercise for Injury Rehabilitation with Rick Kaselj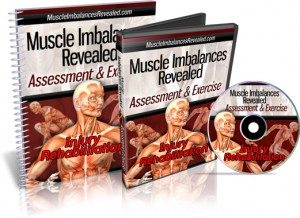 An injured client or a client with a past injury can not be assessed or trained like other clients. Most trainers, coaches and therapists fall into this trap. They use concepts for healthy people and athletes for their injured clients and this leads to slower recovery, frustration and further injury. Rick makes the complex process of assessing an injured client easy in this presentation and shows you his unconventional exercises that he uses to not injure his clients but help them overcome their injuries. (Value $47)
Bonus #1 –
4 Bonus Assessments ($25 Value)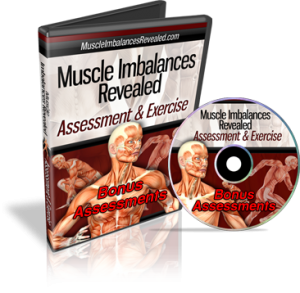 Anthony Mychal has added 4 more bonus assessment videos for you. One video assessment is on the foot and the others are on the hip.
The assessment on the foot is something that is rarely talked about but it is very important especially if you do any barefoot training.
If you order before the clock above runs out, you will also get these four assessments.
Bonus #2 –
Exclusive Coaching Call ($64 Value)

In the next few weeks, we will be setting up a VIP coaching call with the creators of Assessment & Exercise (MIRA) program. This will be your chance to ask any question you want when it comes to MIRA, performance, athleticism, training, fitness or rehabilitation.
Bonus #3 –
Assessment & Exercise for Back Injury Recovery ($49 Value)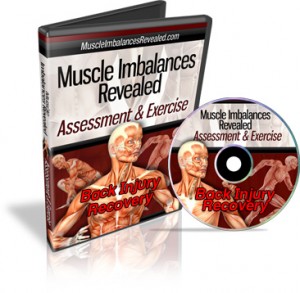 This one is from me, Rick Kaselj. The number one injury I get asked about is the shoulder but the second is back injuries.
I have been doing some new concepts when it comes to back injuries and it would be great to share those concepts in Assessment & Exercise program.
In this bonus presentation, I go through exercises that I use as assessment for clients recovering from back injury and a bunch of regressions and progress exercises that I give.
I know this presentation will get you thinking differently when it comes to back injury exercises and will give you a bunch of exercises that you can use with your clients.
And today, you have the opportunity to get the entire 4-components, $188 package for a single, one-time discounted payment of:
Let's Get to Know the Creators
of Assessment & Exercise: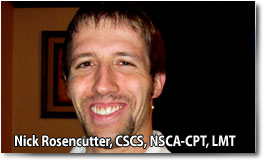 Nick Rosencutter, BSc, CSCS, NSCA-CPT, LMT has helped hundreds of clients feel better, move better and perform better ranging from state champion athletes to fat loss clients to firefighters.
Nick received his Bachelor's Degree in Exercise and Sports Science and Strength and Conditioning from the highly renowned program at the University of Wisconsin La Crosse and received his diploma of Massage Therapy from the Lakeside School of Massage Therapy in Milwaukee, WI. Nick is also a Certified Active Release Techniques provider for the upper extremities. Nick is also a competitive powerlifter, holding multiple state records and has competed at the national level. With his extensive knowledge and training in both strength and conditioning and manual therapy, Nick has a unique ability to help clients with multiple aspects of movement and performance.
Nick is the owner of Rosencutter Ultra Fitness and Performance in Milwaukee, WI and has written multiple articles and e-manuals and publishes a blog at RosencutterUltraFitness.com .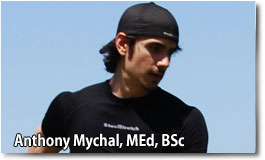 Anthony Mychal, MEd, BSc is a former teacher and coach turned writer. As a professional, he's appeared on the likes of T-Nation, Live Strong, My Mad Methods, Stack, Elite FTS, and Greatist. As a dude, he's a performance junkie that grew up practicing martial arts tricking — his "sport" of choice — which paved the way for his knowledge on fitness and athletics. He splatters his ideas about his own journey, "Skinny-Fat to Athletijacked," on a regular basis at his personal blog – AnthonyMychal.com. He also owns, operates, and updates a second tricking-specific website, Trick Training – TrickTraining.net .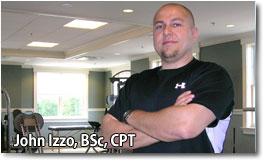 John Izzo, BSc, CPT is an accomplished fitness professional with over a decade of experience working with people to achieve things they never thought possible. He is a commensurate professional, motivator, and coach, that supports others achieve great levels of fat loss, sports performance, and optimal well-being.
John has been in the fitness industry since 199 and for the last 3 years, John has worked with the general population focusing on fat loss, gaining higher strength levels, and improving functionality and performance. His emphasis on corrective exercise, posture, core strength, flexibility, and heightening physical capabilities is only paralleled by his own fitness commitment.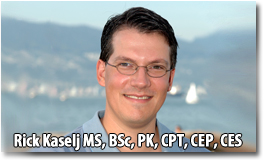 Rick Kaselj, MS, BSc, PK, CPT, CEP, CES has spent his professional career helping clients recover from injury, manage chronic conditions and prevent injury through exercise. Rick is a Kinesiologist, exercise physiologist and personal trainer who has combined his work experience and passion for research into a variety of courses and presentations for fitness professionals, Kinesiologists and health care professionals.
Over the past decade, Rick has given over 315 presentations to 6065 fitness professionals across north America while continuing to work in rehabilitation centers, physiotherapy clinics, recreation centres, fitness clubs and personal training studios. Rick recently completed his Masters of Science degree focusing on corrective exercise and therapeutic exercises for the rotator cuff.
Health and Fitness Professionals Who Have Benefited from Muscle Imbalances Revealed: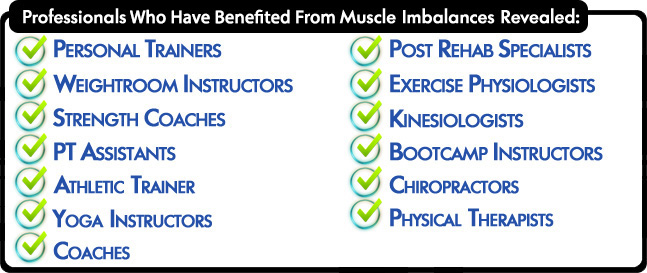 Problem:
What if I don't Like it?
I know we all have attended a conference, seminar or course that was way overpriced and way too long. You had high hopes for it but it let you down.
I know we all have bought fitness education DVDs and books which we were excited to get and learn from but has taught nothing.
You were stuck with all of it and could not do anything about it.
Solution:

Then it's all FREE
I know you will be blown away by Assessment & Exercise program.
I have been in the fitness industry for 18 years, have presented hundreds of courses, read thousands of page of fitness information and have spent thousands of dollars on my fitness education.
I know there is nothing like Assessment & Exercise program out there.
I know you will find the information helpful and it will help your clients and yourself reach their injury, fitness, performance and injury prevention goals.
I am confident enough to say, if you complete the 6 hour of the Assessment & Exercise system, you will start getting better results with your clients in 6 days.
If you don't, just call me (888-291-2430) or email (support at exercisesforinjuries.com) me and I will give you a full refund, no questions asked.
You have 60 days to decide if you want to keep the program or get your money back.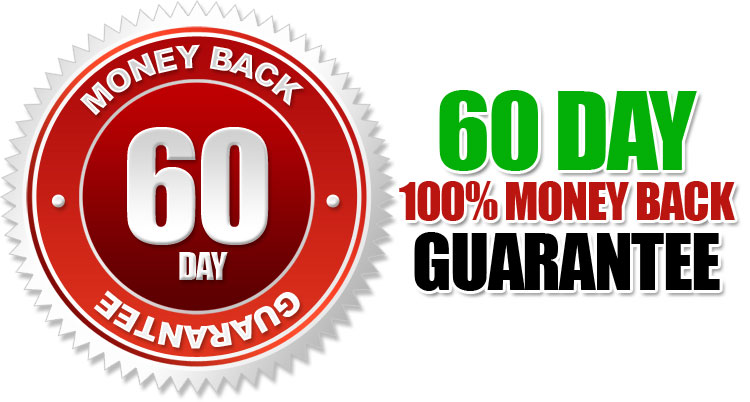 I don't think there is much more I can say.
On behalf of Nick Rosencutter, Anthony Mychal, John Izzo, this is Rick Kaselj saying take care and bye bye.

Rick Kaselj, MS
One of the Creators of Assessment & Exercise
P.S. – There is NO RISK at all for you when you try Assessment & Exercise. If you are not thrilled with how this system helps pin-point problems and what exercises to fix those problems with your clients or yourself in order to overcome injuries, bust through fitness plateaus, improve performance or prevent injures, I insist you contact me to get your money back. Your satisfaction is 100% guaranteed. Rick Kaselj has been trusted by the largest fitness & rehabilitation associations in Canada and the USA (NSCA, ACE, NASM, CanFitPro, BCRPA, CKA, NHPC).
P.P.S. – Have a question? We probably already answered it below!
Q: How Does a Fitness Education Presentation Work?
After trying out the Assessment & Exercise program, you will be directed to the easy to follow details on how to access the video presentations series. You can then view and download all four of the video presentation. The instructions to view and download the videos are easy and quick to do. Along with the video presentations, you can download and print out detailed handout of each of the presentations. With your handout in hand and video presentation on your computer, laptop, iPad or iPod, you are ready to enjoy the presentations and learn a variety of assessments and exercises.
Q: Do I have to Watch the Video Presentations all at Once?
No, you do not have to. You can watch the video video presentations when you want, at your own pace and re-visit any aspects of the video presentation when you like. Plus you will have lifetime access to all of the video presentations. Plus, if you ever need any help with any thing, you can always email me at support(at)exercisesforinjuries.com or call me at (888) 291-2430.
Q: Can I Burn the Video Presentations onto a DVD?
Yes, you can! You can download the videos to your computer/laptop/tablet and then burn the video presentations to a blank DVD. This allows you to watch the presentations on a DVD player at home, on your laptop or on a different computer.
"Made A Big Impact on How I Write Programs"
Mike Whitfield TT Trainer WorkoutFinishers.com
"Helped My Clients Become Injury-free"
Tyler Bramlett Personal Training and Bootcamp Instructor Santa Cruz, CA KettlebellTrainingX.com
"It Helped Me Beter Understand and Help My Clients"
Brian Kalakay Personal Trainer and Bootcamp Owner Lapeer, Michigan Xtreme Results
"Fantastic Resource for My Injuries"
Rob King
Personal trainer and Gym Owner St. John's, Newfoundland HeavyWeights.ca and RobKingFitness.com
"Went Deeper Into Things Than I Thought It Would – It Over Delivered."
Scott Rawcliffe
Personal Trainer Gold Coast, Australia
"Rick is the Person that I go to When it Comes to Muscle Imbalances and Corrective Exercises."
Rebecca Tabbert Fit Body Bootcamp owner Redlands, California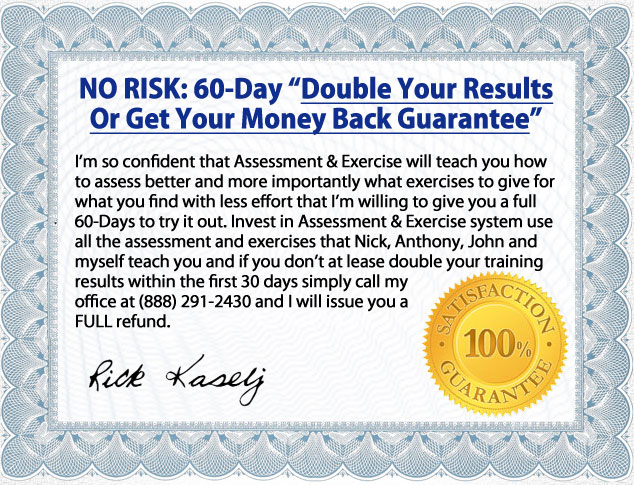 Note: – Muscle Imbalances Revealed – Assessment & Exercise program is a downloadable product that contains videos and handouts. No physical products will be shipped. After you order, you will get INSTANT ACCESS to download the videos and handouts for Assessment & Exercise. The handouts format is adobe acrobat PDF, which can be viewed on Mac or PC. The video format are MP4 or M4V which can be viewed on Mac or PC.